From high-performance special steel to nonferrous metals, we respond to various needs with broad lineup that is top class in the industry.


We advise on the most optimized material utilization, including machining processing.
We propose the best option of material from wide range of special steels which includes the process of the material.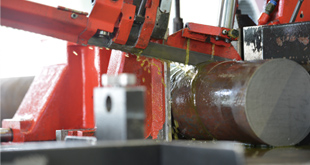 Quick delivery with wide selection of inventory, no matter what the lot size is.
Round bar ranging φ19 to φ450 always available in stock, middle size (from φ105 to φ175) are also in our inventory.
List of Product Lineup

We deal with broad lineup of products.
We also welcome inquiries for special specification products.
Carbon steel for mechanical structure

SXXC
Alloy steel for mechanical structure

SCM,SNCM,SNC,SCr,SACM, etc.
Stainless steel in general

We keep wide selections of heat-treatmented stainless steel in stock, including but not limited to SUS 303 / 304 / 316 / 316L / 403 / 403H / 420J2 / 420J2H / 431 / 431H / 630, etc. We also have stainless steel for nuclear power plant application.
High alloy

Incoloy / Inconel / Hastelloy
Titanium

Pure titanium / Titanium alloy
Low Carbon Steel

S10C, pure iron, etc.
Tool steel

SK,SKH,SKS,SKD, etc.
Cast-and-forged-steel article

SC,SCC,SCMn,SCS, etc. SF,SUSF,SFCM, etc.
Stainless steel casting products for nuclear power plants. Wide product range including forging products with marine approval from maritime classification society such as Lloyd's Register.
Cast iron bar
(Dense bar)

FC,FCD
Bright bar

Structural carbon steel, alloy steel, free cutting steel, and stainless steel.
Various steel plates

SS,SC,SCM,SUS, etc.
Cutting of various steel plates

Cutting of various kind of steel plates, including steel plate for general structure / welded structure / high tensile strength / corrosion resisting / machine structure / boilers and pressure vessels and other special steel plates.
Steel pipe

SGP,STPG,STPT,STKM,SUS-TK, etc.
We affiliate with a few specialty companies. Not only cutting and sales, but we also able to customize the specification according to user's requirement.
Nonferrous metal

CXXXP, CXXXB, AXXXP, AXXXB, AXXXT, A7075T6, T6511, etc.
We work actively ranging from material to forging products.