High-speed cutting of deep holes and rough machining of difficult-to-cut
materials (titanium, Inconel, etc.)

High-speed cutting of difficult-to-cut materials such as high alloy steel, low carbon steel, and titanium.
We have achieved this by incorporating and ultra-high pressure coolant unit into the NC lathe, enhancing the processing efficiency of hard-to-cut materials.

Work highly effectively on
Stainless steel, alloy steel for machine structural use, high alloy steel such as Inconel Hastelloy, titanium, pure iron / low carbon steel
Work effectively with
Deep hole machining / roughing
MOVIE
Coolant discharge at maximum 20MPa
The materials on which the coolant can effectively work are
Stainless steel in general

SUS303, 304, 316, 316L, 403, 403H, 420J2, 420J2H, 431, 431H, 630, etc.
Alloy steel for machine structure

SCM / SNCM / SNC / SCr / SACM etc.
High alloy

Incoalloy Inconel Hastelloy
Titanium

Pure titanium, titanium alloy
Low arbon steel

S10C, pure iron, etc.
The methods with which the coolant can effectively work are
Deep hole processing

Hole diameter: φ5 to φ10 Depth: 200 mm to 300 mm (one-pass processing)
Roughing

For outer diameter φ300 ... Length 300 mm
For outer diameter φ400 ... Length 100 mm
You can count on us for the procurement of Inconel and titanium alloy.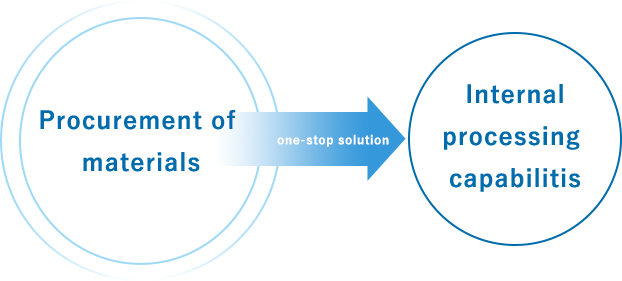 Hanshin Metalics serves as a trading company specializing in special steel to cater to wide-ranging clientele
including machinery, construction, shipbuilding, nuclear power generation, aviation, and space industry.
We can source our materials based with high quality assurance, quick delivery, and cost reduction proposals
as a one-stop shop that can carry out procurement, inventory, cutting, heat treatment, and machining of special steel.
Please feel free to inquire us about anything.