Using our experience accumulated over many years and our own quality control guidance that codifies quality maintenance, we strive to provide our customer "solid value".

Our rigorously managed proprietary I.T. system
Thoroughgoing charge (heat) number management to whole inventory (standard length bar, cut bar to scraps).
Keep data records of delivered goods that linked with steel charge (heat) number.
Ensure complete traceability of the material's origin and store the data of corresponded mill sheet.
Quality Assurance
Certified JIS Q 9100 and ISO 9001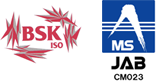 Applited Standard

JIS Q 9100:2009 & JIS Q 9001:2008(ISO 9001:2008)
Certificate Ranges

Akashi Branch
Certificate Number

BSKA0222
Certification Date

6 November, 2014
Expiry Date

6 November, 2017
Environmental Policy
We recognize that commitment to environment management is one of important elements in corporate social responsibility, and we are committed to preserve the global environment through various actions.
We promote energy and resources conservation as well as waste reduction by improving the workplace productivity and efficiency in our business activities.
We comply to the environmental laws, regulations and other requirements.
We enrich our management framework in order to carry out our environmental policy.